Angel Azul explores the artistic journey of Jason deCaires Taylor, an innovative artist who combines creativity with an important environmental solution; the creation of artificial coral reefs from statues he's cast from live models. When algae overtakes the reefs however, experts provide the facts about the perilous situation coral reefs currently face and solutions necessary to save them. Peter Coyote generously provides insightful narration that leaves viewers pondering our connection to this valuable and beautiful ecosystem.
Through the hauntingly beautiful lure of deCaires Taylor's underwater museum, we learn how we are inextricably connected to the ocean and everything in it, and are left to consider how our choices will determine what we leave to future generations.
PRODUCER/DIRECTOR: MARCY CRAVAT

Marcelina Cravat, trained at The Berkeley Digital Film Institute and
Art Center College of Design, is currently directing her third documentary, Angel Azul. Making a transition from photography to film came later in life when her love for storytelling motivated her to return to school to pursue a career as a writer/director. Upon graduating she co-founded ARTiDOCs, a small production company specializing in portrait style documentaries on artists. Marcy grew up around Hollywood sets as daughter of character actor Nick Cravat, Burt Lancaster's co-star and circus partner. Upon completion of Angel Azul she intends to direct, Fish Can't Scream, which she wrote while in film school. Her love for art and for nature makes Angel Azul the perfect project for her at this time.
ARTIST: JASON DECAIRES TAYLOR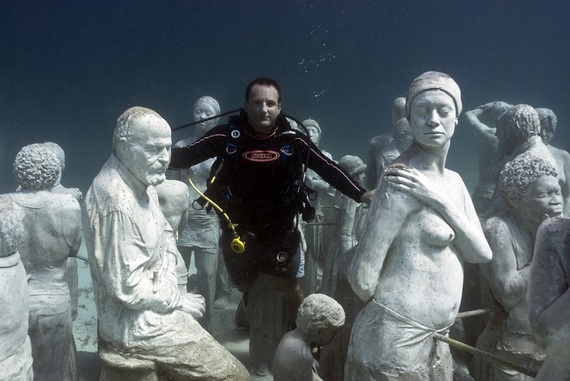 Taylor's art is like no other, a paradox of creation, constructed to be assimilated by the ocean and transformed from inert objects into living breathing coral reefs, portraying human intervention as both positive and life-encouraging.
In 2006, Taylor founded and created the world's first underwater sculpture park. Situated off the west coast of Grenada in the West Indies it is now listed as one of the Top 25 Wonders of the World by National Geographic and was instrumental in the creation of a National Marine Protected Area by the local Government. Following on in 2009 he co-founded MUSA (Museo Subacuático de Arte), a monumental museum with a collection of over 500 of his sculptural works, submerged off the coast of Cancun, Mexico; described by Forbes as one of the world's most unique travel destinations.
His pioneering public art projects are not only examples of successful marine conservation, but works of art that seek to encourage environmental awareness, instigate social change and lead us to appreciate the breathtaking natural beauty of the underwater world.
During the summer of 2014 Taylor submerged "Ocean Atlas" in the Bahamas, which is currently the largest single underwater sculpture in the world measuring 5 meters high and weighing over 60 tons.
Over the past few decades, we have lost over 40% of our natural coral reefs. Scientists predict a permanent demise of 80% by 2050. Jason de Caires Taylor's art is an example of generative human intervention in the ecosystem, showing what can be accomplished by individual imagination and collective effort. Taylor's strategy of conserving reefs, opposes the "land as commodity" mentality of Capitalism. His creation of underwater sculpture parks attracts tourists away from natural reefs, allowing them to recover, and taps into tourism revenue, showing how activists might be able to use the system's rapacious tendencies against itself. His exceptional works are designed "to promote the regeneration of marine life and to use sculpture as a means of conveying hope and awareness of the plight of our oceans" before it is too late.
http://www.underwatersculpture.com/
NARRATED BY: PETER COYOTE
LIVE LIKE LEGENDS